Winter
The leaves have all fallen, the temperature follows, and soon, the snow flakes too.

This means that Rigaud Ski Hill has opened. The ski and snowboard lessons have begun!

I began taking ski lessons with Julie, a close friend of mine, three years ago. At first I wasn't too sure about it, but now I love it! I love the rush of going down the hill at such a high speed.

As well, during the winter in Hudson. Benson park's baseball diamond turns into a skating rink! Skating is divided into two areas, one for hockey, the other for recreation.

While the activities are great, do you know what sold my parents on Hudson? And honest-to-goodness, small town Christmas parade where everybody turns out, either part of the parade or to watch it.

And here's the really neat part... The parade starts right in front of our house! So if it happens to be especially cold one year, and you really do not feel like waiting outside despite the hot chocolate being served, you have a ring side indoor seat!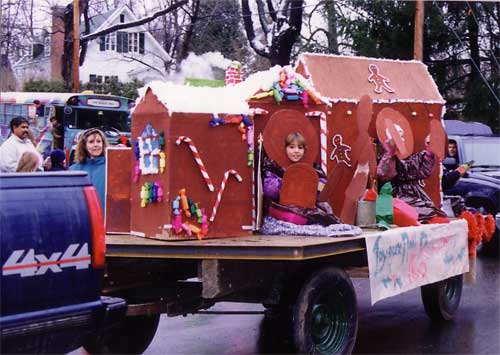 Back To Four Seasons of Hudson Village

Back To Hudson Quebec Home Page