Our Hudson Quebec Home
Hudson Quebec is the only home I've ever known.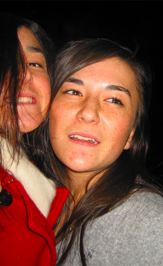 Hi, my name is Yuki. I'm 14 years old.

That is my older sister, Nori (on the right) and I.

We're best friends, but I'm taller than she is now.

We bought our house here in Hudson, Quebec, shortly before I was born.

My parents renovated it for 6 months. My Dad used to drive to the renovation site almost daily, bringing me along in the baby seat.

So I guess you could say that the "new house" in Hudson and I are the same age.

The final results of that renovation? The "big white Kent house on Cote. St. Charles" became the "big green Evoy house" (my dad added the office, a full home gym, and a home theatre)...

We moved in when I was 4 and 1/2 months old. Do you see that little house behind our main house (separated by the creek my Dad loves so much)?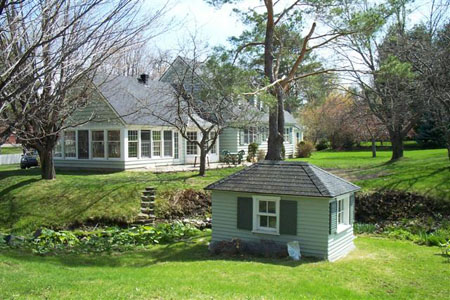 It was renovated, too. It got the same treatment each step of the way. So it's probabably the only children's playhouse with real Pennsylvania cherrywood floors. My older sister and I loved that playhouse. And that brings me to the reason for all this...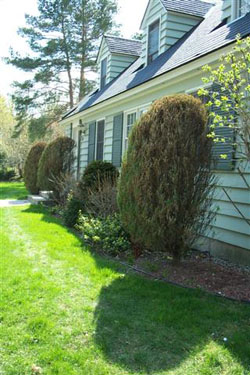 I'm writing this site to tell you about the most interesting little town in Quebec, maybe all of Canada, and to leave behind this souvenir of my life here in the only home I've ever known. Why is Hudson Quebec so fascinating?

Well, if you like typical suburbs with typical people who wash their cars on Saturday afternoon, Hudson is probably not for you. While it's within commuting distance to Montreal, it's not your typical "suburb."

Hudson Quebec (or Hudson QC as we abbreviate "Quebec" here) is a small town of 5,000 with theatre, artists, flea markets and outlets. Originally a summer resort for wealthy Montrealers, it is now a full-fledged, year-round village with a special everyone-knows-everyone kind of feeling.

I have divided the site up into 4 sections. To whoever finds this, I hope you enjoy them. Here they are...

My Life In Hudson Quebec
Hudson Quebec is a village with cachet, just outside Montreal, Canada. Our family home is for sale.

My Family
It's not easy to find a photo of our whole family at home in Hudson Quebec.

Our Hudson QC Home
I've lived in my Hudson Home all my life. Let me show you my home.

The Village Of Hudson Quebec
Hudson Quebec is a charming town of 5000 people. Winter, spring, summer or fall, there's always something neat and fun going on.

Hudson Home For Sale
Yes, it's true. My dad has finally put up our Hudson home for sale. We live downtown now, but we'll always have Hudson Quebec in our hearts.