Fall in Hudson
With summer fading, the leaves start turning their brilliant shades of red, yellow and orange.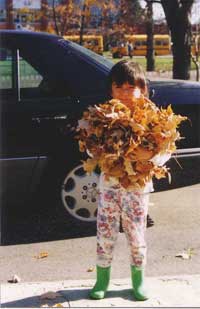 The smell of people burning their leaves (illegally!), the crunch of the leaves whilst you're walking through them.

People come from far and wide to stay at Hudson's bed and breakfasts and see the leaves.

And here I am (left). Do you know what I'm doing? I'm hinting.

I'm showing my Dad how I'm gathering the leaves. That would get him to take out the rake and build a MOUNTAIN of leaves.

You know the rest... Nori and I would run and dive into the mountain. I'll always remember that.

And, just as much fun, it's...

Halloween!

The whole town decorates for Halloween, much like New England. Everyone gets into the spirit.

Halloween Hudson has its share of haunted houses. It's a safe and fun place to go trick-or-treating.

Every year my dad would take my sister and me and friends around on a mad dash to fill our pillow cases with candies. When Nori outgrew Halloween, it fell to my best friend Julie and me to continue the tradition. Here we are, doing our very best to look like very serious pirates...
Back To Four Seasons of Hudson Village

Back To Hudson Quebec Home Page