Our Hudson Quebec Home:
Dining Room, Kitchen & Sewing Room
After you enter the vestibule, there's a large foyer which I don't have any pictures of. From there, you see the dining room straight ahead.

We don't normally eat in the dining room. The dining room is reserved for Christmas New Year's Eve dinners, and other special family occasions. My Mum loves this room.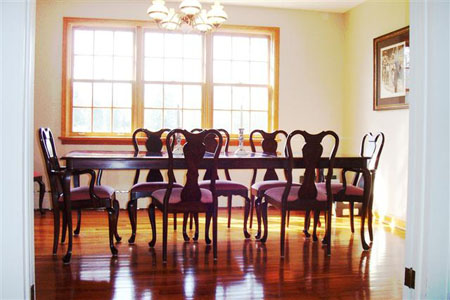 My mum is a great cook. My favorite meal is her Japanese dumplings ("gyoza"). On an every day basis we eat in the kitchen. You can see the kitchen table in the photo below (in the area you see on the right.)

The kitchen counters have granite counters. The island piece was cut from one huge piece of granite. My Dad tells me that the granite installer was nervous because they are responsible for the granite until it is installed. They wanted to install in two pieces but my Dad didn't want any joints.

So, no joints!

And after 15 years and two children, not a single scratch. My Mum really, really loves those counter tops. And Heaven forbid if we leave cluttter on them, ha ha!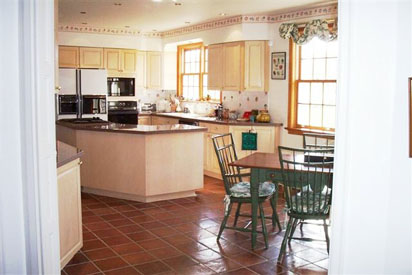 My Mum is an avid sewer, knitter and embroider-er. She has a sewing room just off the kitchen where she spends quiet hours. I wish I had taken a photo of her embroidering. Nobody ever did.

Now that we've moved downtown, we never will. Sometimes, we just don't think of how special "ordinary things" really are.

Back To Begining of Hudson Home Tour

Back To Hudson Quebec Home Page