Our Hudson Home: The Basement
Before my parents first moved to Hudson, Quebec from the city, they renovated the house for two months. My dad tells me that they stripped the house down to its basic structure and re-built it including the new office.

A couple of years after that, they had this wonderful idea of having a complete professional home gym! And when my Dad starts a project, he researches and researches until he finds the best of every equipment.

It's even better then any gym that you'd have to join because (in the words of my father) "You don't have to wipe off any other people's sweat, and you don't have to wait for somebody to finish". As their company began to grow bigger and bigger, the equipment began to be used less and less.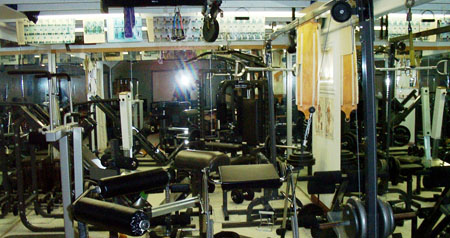 So my dad got the idea of a home theater to attract him downstairs figuring he would exercise while watching TV. He made a few phone calls and next thing we knew, we were watching HD movies on a 100" projector screen with MASSIVE full surround sound! My mum was terrified that the bass would crack the tiles above in the kitchen. Lucky for my dad, it never did.

This is the view from the gym...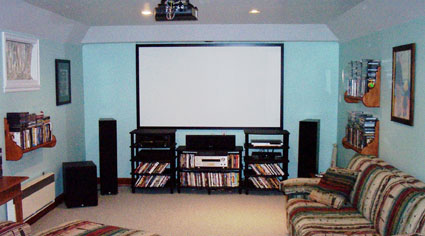 Back To Begining of Hudson Home Tour

Back To Hudson Quebec Home Page